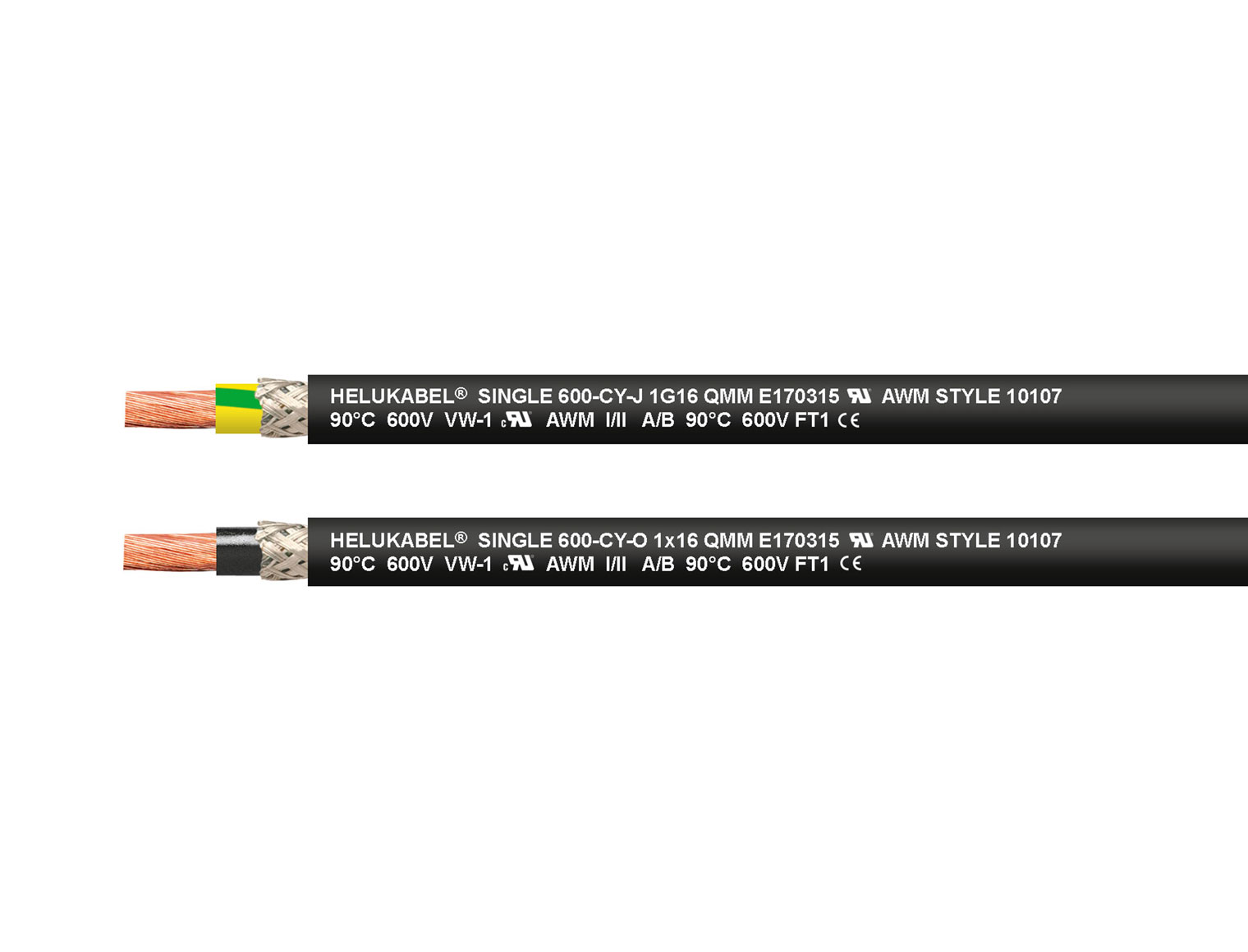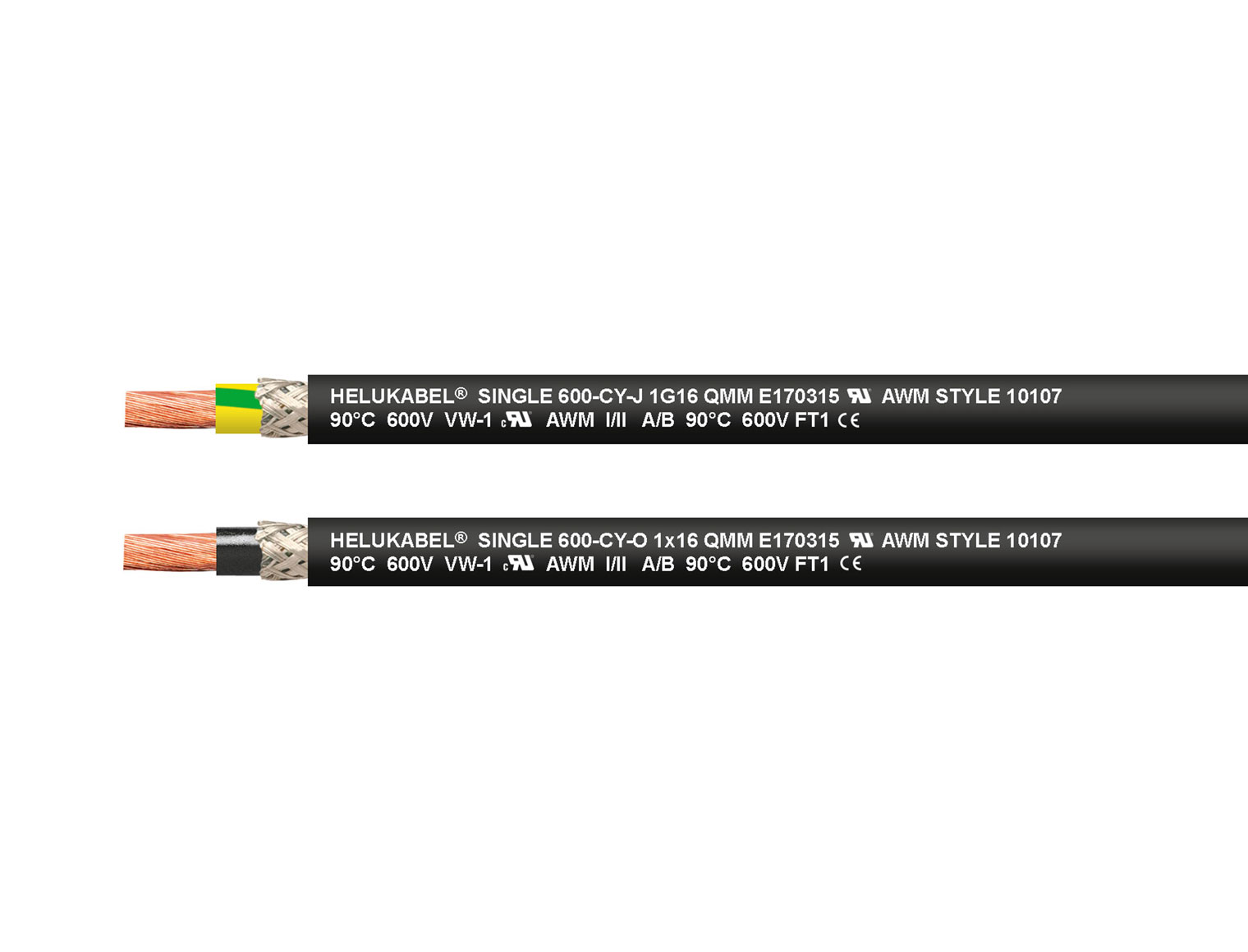 Single 600-CY-O black 1 x 50 mm²
Part no. 10921
€ 1,344.00
/ 100 metre
Base price. Surcharges are added for metal, price increases, packaging, shipping and to reach minimum order values according to the General Terms & Conditions. For details, see shopping cart.
Login now
Item Details
Single 600-CY-O black 1 x 50 mm²
Part no.

10921

Item description

Single 600-CY-O black 1 x 50 mm²

Outer Ø mm (approx.)

16.4

AWG (approx.)

1

Cu-weight kg/km

560.0

Weight kg/km (approx.)

825.0

Copper base in EUR / 100 kg

150

VPE/m

500, 1000

Cut-to-length service available

yes

EAN/GTIN

4060892172694

Customs tariff number

85444995
Technical Data
Single 600-CY-O black 1 x 50 mm²
PVC sheathed single core cable acc. to UL-Std. 758 (AWM) Style 10107, CSA-Std. C22.2 No. 210 - AWM I/II A/B, in alignment with DIN VDE 0285-525-2-31 / DIN EN 50525-2-31
Temperature range
flexible -5°C to +90°C
fixed -40°C to +90°C
Permissible operating temperature of the conductor
+90°C
Nominal voltage
VDE AC U0/U 600/1000 V
UL (AWM) AC 600 V
Test voltage
4000 V
Breakdown voltage
8000 V
Coupling resistance
at 30 MHz, approx. 250 Ohm/km
Minimum bending radius
flexible 7.5x Outer-Ø
fixed 4x Outer-Ø
Details
Single 600-CY-O black 1 x 50 mm²
Cable Structure
Copper wire bare, finely stranded acc. to DIN VDE 0295 Class 5 / IEC 60228 Class 5
Core insulation: Special-PVC acc. to UL-Std. 1581
Core identification: see datasheet
G = with protective conductor GN-YE,
x = without protective conductor
Screen: braided screen of tinned copper wires, approx. coverage 85%
Outer sheath: PVC acc. to DIN VDE 0207-5 (compound type YM5), UL-Std. 1581
Sheath colour: black (RAL 9005)
Length marking: in metres
Properties
resistant to: UV radiation
largely resistant to: oil,
for details, see "Technical Information"
for outdoor use
the materials used during manufacturing are cadmium-free, contain no silicone and are free from substances harmful to the wetting properties of lacquers
Tests
flame-retardant acc. to DIN VDE 0482-332-1-2 / DIN EN 60332-1-2 / IEC 60332-1-2, UL VW-1, CSA FT1
certifications and approvals:
EAC
Notes
the conductor is metrically (mm²) constructed, AWG numbers are approximated, and are for reference only
Application
PVC sheathed single core cable suitable for medium mechanical stress with free movement, without tensile stress and without forced motion control in dry, damp and wet rooms, as well as outdoors. May not be laid directly in soil or water. This two-standard sheathed single core cables are preferably used in export-oriented mechanical engineering on machine tools, production lines and in plant construction. These copper screened cables are ideally suited for interference-free data signal transmission in measurement and control technology. EMC = Electromagnetic Compatibility; in order to optimise EMC properties, we recommend a double-sided and all-round large contact area of the copper braiding.
Downloads
Single 600-CY-O black 1 x 50 mm²