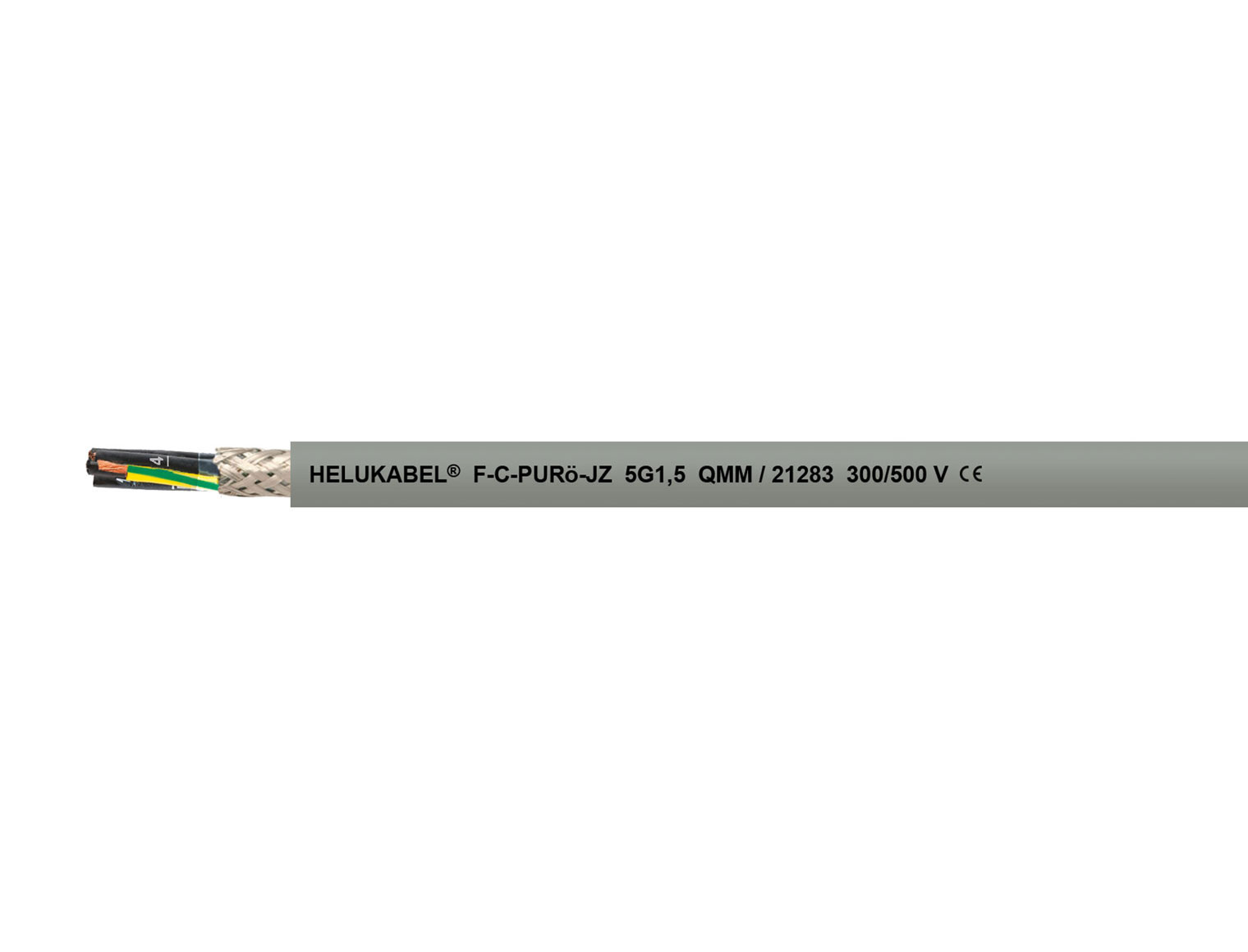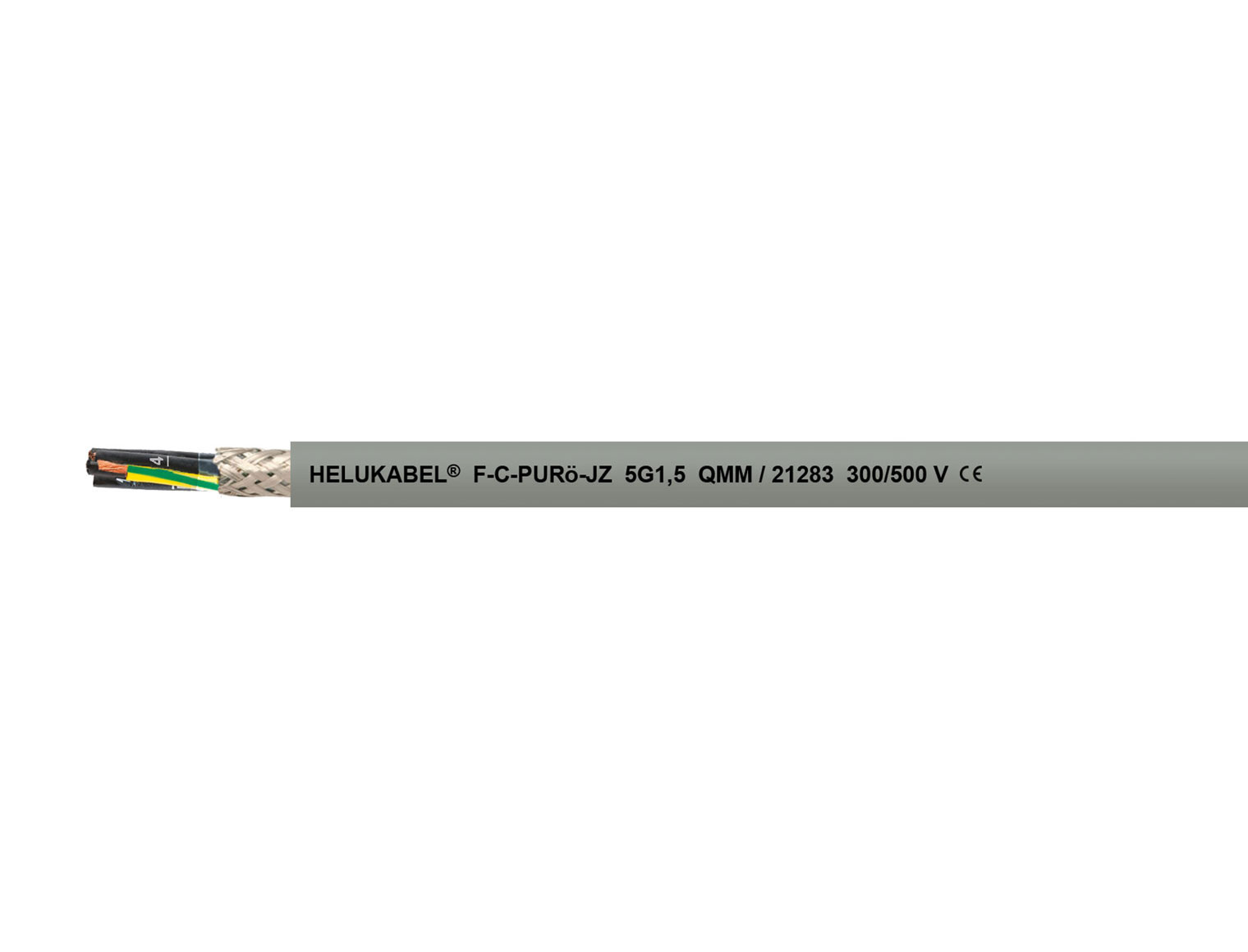 F-C-PURö-JZ grey 8 G 1 mm²
Part no. 21259
high-grade, oil resistant PVC core insulation and oil resistant PUR outer sheath
highly abrasion-resistant
notch, cut and wear resistant
EMC-preferred type
without an inner sheath
for outdoor use
robust control and connection cable for high mechanical stress in machine, tool and plant construction
€ 559.00
/ 100 metre
Base price. Surcharges are added for metal, price increases, packaging, shipping and to reach minimum order values according to the General Terms & Conditions. For details, see shopping cart.
Login now
Item Details
F-C-PURö-JZ grey 8 G 1 mm²
Part no.

21259

Item description

F-C-PURö-JZ grey 8 G 1 mm²

Outer Ø mm (approx.)

9.8

AWG (approx.)

18

Cu-weight kg/km

127.0

Weight kg/km (approx.)

198.0

Copper base in EUR / 100 kg

150

VPE/m

100, 500, 1000

Cut-to-length service available

yes

EAN/GTIN

4060892042553

Customs tariff number

85444995
Technical Data
F-C-PURö-JZ grey 8 G 1 mm²
PUR control and connection cable in alignment with DIN VDE 0285-525-1 / DIN EN 50525-1
Temperature range
flexible -20°C to +80°C
fixed -40°C to +80°C
Nominal voltage
AC U0/U 300/500 V
Test voltage core/core
3000 V
Breakdown voltage
6000 V
Coupling resistance
at 30 MHz, approx. 250 Ohm/km
Minimum bending radius
flexible 10x Outer-Ø
fixed 5x Outer-Ø
Details
F-C-PURö-JZ grey 8 G 1 mm²
Cable Structure
Copper wire bare, finely stranded acc. to DIN VDE 0295 Class 5 / IEC 60228 Class 5
Core insulation: oil-resistant PVC in alignment with DIN VDE 0207-363-3 / DIN EN 50363-3 (compound type TI2), with improved gliding behaviour
Core identification acc. to DIN VDE 0293-334, black cores with consecutive labeling in white digits
Protective conductor: starting with 3 cores,
G = with protective conductor GN-YE, in the outer layer,
x = without protective conductor (OZ)
Cores stranded in layers with optimal lay lengths
Foil wrapping
Screen: braided screen of tinned copper wires, approx. coverage 85%
Fleece wrapping
Outer sheath: Special grade of full polyurethane acc. to DIN VDE 0207-363-10-2 / DIN EN 50363-10-2 (compound type TMPU)
Sheath colour: grey (RAL 7001)
Length marking: in metres
Properties
resistant to: oil, UV radiation, ozone, oxygen, weathering effects, hydrolysis, microbes, coolants, hydraulic fluids, acids, alkalis, greases, seawater and wastewater
highly abrasion-resistant, notch-resistant, tear-resistant, cut-resistant, wear-resistant, low adhesion
for outdoor use
the materials used during manufacturing are cadmium-free, contain no silicone and are free from substances harmful to the wetting properties of lacquers
Tests
oil-resistant acc. to DIN VDE 0473-811-404 / DIN EN 60811-404 / IEC 60811-404
weather-resistant acc. to DIN EN ISO 4892-2
certifications and approvals:
EAC
Notes
the conductor is metrically (mm²) constructed, AWG numbers are approximated, and are for reference only
Application
Connection and control cable with a high-grade oil-resistant PVC core insulation. Due to its resistance to mineral oils, notably against coolant emulsions, it is suited for use in particularly critical locations in machine, tool and plant construction, rolling mills and steelworks. The cable can be laid quickly and easily due to its good flexibility. Suitable for flexible applications involving medium mechanical stress with free movement, without tensile stress and without forced motion control in dry, damp and wet rooms, as well as outdoors. Due to the high screening density, interference-free transmission of signals or pulses is ensured. EMC = Electromagnetic Compatibility; in order to optimise EMC properties, we recommend a double-sided and all-round large contact area of the copper braiding.
Downloads
F-C-PURö-JZ grey 8 G 1 mm²