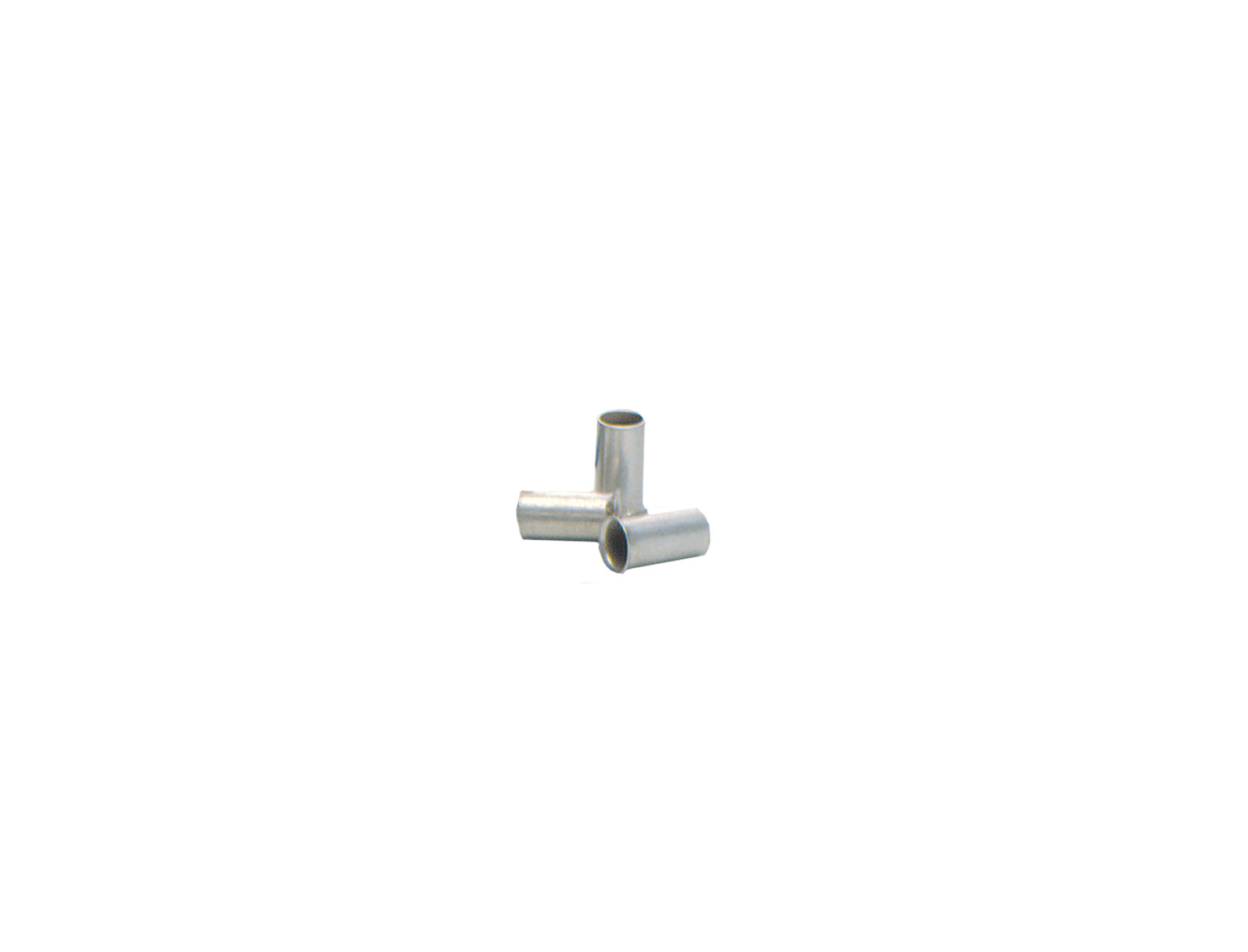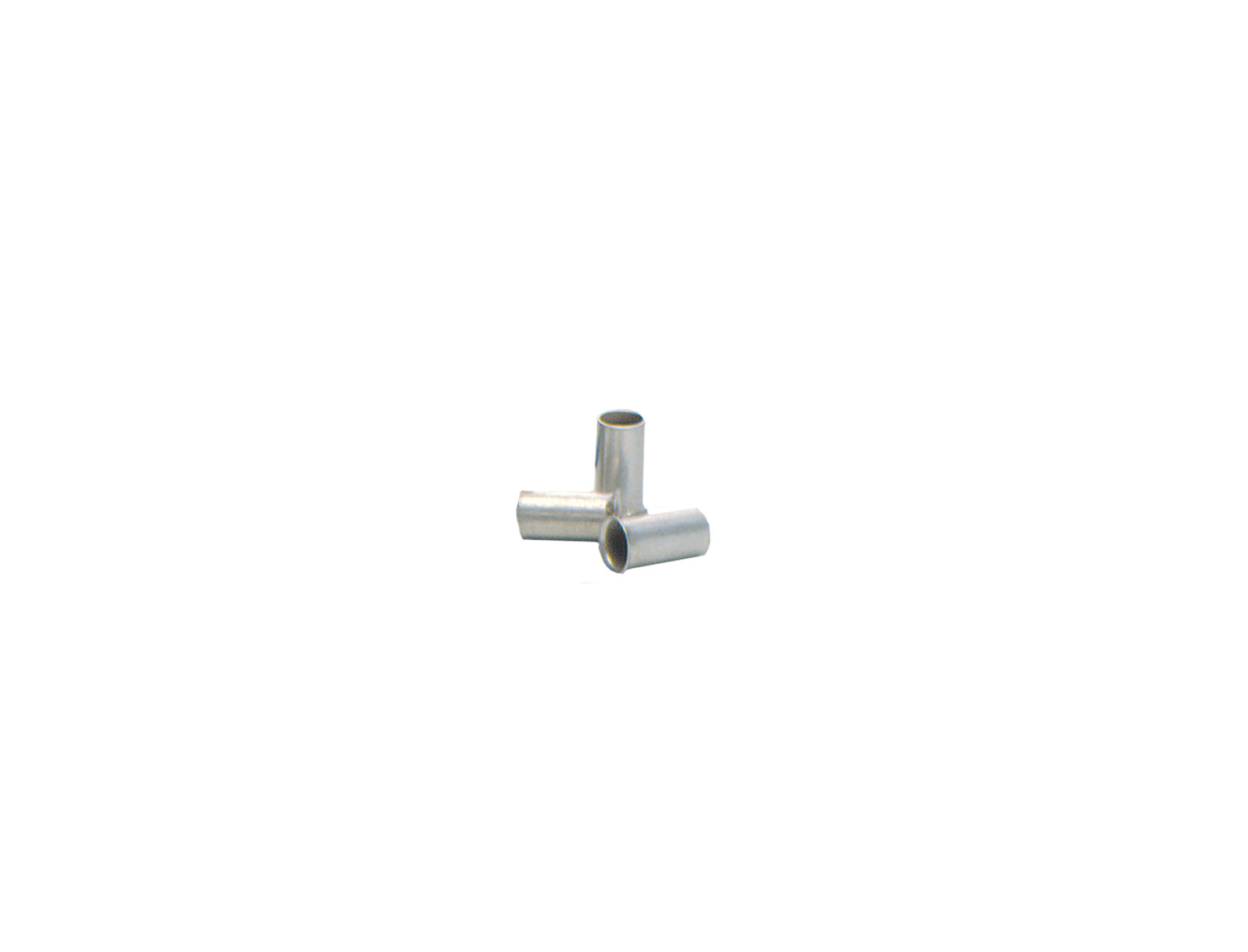 ADU core end sleeves - uninsulated
From
€ 0.74
/ 100 Item
Net prices
Technical Data
ADU core end sleeves - uninsulated
Details
ADU core end sleeves - uninsulated
Properties
Non-insulated core end sleeves prevent stripped wires from fanning. The hopper-shaped socket enables them to be pushed easily onto the wires.
Notes
Assignment to cable cross section according to DIN 46228:
up to 50mm² to nominal size an DIN color code - over 50mm² no specification; Assignment to suitable size possible.
All articles ADU core end sleeves - uninsulated
Item description

Part no.

Size mm²
Length mm
Unit pce.
EAN / GTIN
core end sleeve ADU 0.5 mm² - 6mm

91368

0.5
6
1000
4060892414930
view

Article details

Item description

core end sleeve ADU 0.5 mm² - 6mm

customs tariff number

85369010

core end sleeve ADU 0.5 mm² - 10mm

91370

0.5
10
1000
4060892414947
view

Article details

Item description

core end sleeve ADU 0.5 mm² - 10mm

customs tariff number

85369010

core end sleeve ADU 0.75 mm² - 6mm

91371

0.75
6
1000
4060892414954
view

Article details

Item description

core end sleeve ADU 0.75 mm² - 6mm

customs tariff number

85369010

core end sleeve ADU 0.75 mm² - 8mm

91372

0.75
8
1000
4060892414961
view

Article details

Item description

core end sleeve ADU 0.75 mm² - 8mm

customs tariff number

85369010

core end sleeve ADU 1 mm² - 6mm

91373

1
6
1000
4060892414978
view

Article details

Item description

core end sleeve ADU 1 mm² - 6mm

customs tariff number

85369010

core end sleeve ADU 1 mm² - 10mm

91374

1
10
1000
4060892414985
view

Article details

Item description

core end sleeve ADU 1 mm² - 10mm

customs tariff number

85369010

core end sleeve ADU 1.5 mm² - 7mm

91375

1.5
7
1000
4060892414992
view

Article details

Item description

core end sleeve ADU 1.5 mm² - 7mm

customs tariff number

85369010

core end sleeve ADU 1.5 mm² - 10mm

91376

1.5
10
1000
4060892415005
view

Article details

Item description

core end sleeve ADU 1.5 mm² - 10mm

customs tariff number

85369010

core end sleeve ADU 2.5 mm² - 7mm

93096

2.5
7
1000
4060892415012
view

Article details

Item description

core end sleeve ADU 2.5 mm² - 7mm

customs tariff number

85369010

core end sleeve ADU 2.5 mm² - 10mm

93097

2.5
10
1000
4060892415029
view

Article details

Item description

core end sleeve ADU 2.5 mm² - 10mm

customs tariff number

85369010

core end sleeve ADU 4 mm² - 9mm

93099

4
9
1000
4060892415036
view

Article details

Item description

core end sleeve ADU 4 mm² - 9mm

customs tariff number

85369010

core end sleeve ADU 4 mm² - 12mm

94000

4
12
1000
4060892415043
view

Article details

Item description

core end sleeve ADU 4 mm² - 12mm

customs tariff number

85369010

core end sleeve ADU 6 mm² - 10mm

94001

6
10
250
4060892415050
view

Article details

Item description

core end sleeve ADU 6 mm² - 10mm

customs tariff number

85369010

core end sleeve ADU 6 mm² - 12mm

94002

6
12
250
4060892415067
view

Article details

Item description

core end sleeve ADU 6 mm² - 12mm

customs tariff number

85369010

core end sleeve ADU 6 mm² - 15mm

94003

6
15
250
4060892415074
view

Article details

Item description

core end sleeve ADU 6 mm² - 15mm

customs tariff number

85369010

core end sleeve ADU 10 mm² - 12mm

94004

10
12
250
4060892415081
view

Article details

Item description

core end sleeve ADU 10 mm² - 12mm

customs tariff number

85369010

core end sleeve ADU 10 mm² - 15mm

94005

10
15
250
4060892415098
view

Article details

Item description

core end sleeve ADU 10 mm² - 15mm

customs tariff number

85369010

core end sleeve ADU 10 mm² - 18mm

94006

10
18
250
4060892415104
view

Article details

Item description

core end sleeve ADU 10 mm² - 18mm

customs tariff number

85369010

core end sleeve ADU 16 mm² - 12mm

94007

16
12
250
4060892415111
view

Article details

Item description

core end sleeve ADU 16 mm² - 12mm

customs tariff number

85369010

core end sleeve ADU 16 mm² - 15mm

94008

16
15
250
4060892415128
view

Article details

Item description

core end sleeve ADU 16 mm² - 15mm

customs tariff number

85369010

core end sleeve ADU 16 mm² - 18mm

94009

16
18
250
4060892415135
view

Article details

Item description

core end sleeve ADU 16 mm² - 18mm

customs tariff number

85369010

core end sleeve ADU 25 mm² - 12mm

94010

25
12
250
4060892415142
view

Article details

Item description

core end sleeve ADU 25 mm² - 12mm

customs tariff number

85369010

core end sleeve ADU 25 mm² - 15mm

94011

25
15
250
4060892415159
view

Article details

Item description

core end sleeve ADU 25 mm² - 15mm

customs tariff number

85369010

core end sleeve ADU 25 mm² - 18mm

94012

25
18
250
4060892415166
view

Article details

Item description

core end sleeve ADU 25 mm² - 18mm

customs tariff number

85369010

core end sleeve ADU 25 mm² - 25mm

94013

25
25
250
4060892415173
view

Article details

Item description

core end sleeve ADU 25 mm² - 25mm

customs tariff number

85369010

core end sleeve ADU 25 mm² - 32mm

94014

25
32
250
4060892415180
view

Article details

Item description

core end sleeve ADU 25 mm² - 32mm

customs tariff number

85369010

core end sleeve ADU 35 mm² - 35mm

94015

35
18
100
4060892415197
view

Article details

Item description

core end sleeve ADU 35 mm² - 35mm

customs tariff number

85369010

core end sleeve ADU 35 mm² - 25mm

94016

35
25
100
4060892415203
view

Article details

Item description

core end sleeve ADU 35 mm² - 25mm

customs tariff number

85369010

core end sleeve ADU 35 mm² - 32mm

94018

35
32
50
4060892415210
view

Article details

Item description

core end sleeve ADU 35 mm² - 32mm

customs tariff number

85369010

core end sleeve ADU 50 mm² - 18mm

94019

50
18
100
4060892415227
view

Article details

Item description

core end sleeve ADU 50 mm² - 18mm

customs tariff number

85369010

core end sleeve ADU 50 mm² - 22mm

94020

50
22
100
4060892415234
view

Article details

Item description

core end sleeve ADU 50 mm² - 22mm

customs tariff number

85369010

core end sleeve ADU 70 mm² - 25mm

94021

70
25
100
4060892415241
view

Article details

Item description

core end sleeve ADU 70 mm² - 25mm

customs tariff number

85369010

core end sleeve ADU 70 mm² - 32mm

94022

70
32
100
4060892415258
view

Article details

Item description

core end sleeve ADU 70 mm² - 32mm

customs tariff number

85369010

core end sleeve ADU 95 mm² - 25mm

91030

95
25
50
4060892414916
view

Article details

Item description

core end sleeve ADU 95 mm² - 25mm

customs tariff number

85369010

core end sleeve ADU 95 mm² - 30mm

91031

95
32
50
4060892414923
view

Article details

Item description

core end sleeve ADU 95 mm² - 30mm

customs tariff number

85369010

core end sleeve ADU 120 mm² - 32mm

96841

120
32
50
4060892415265
view

Article details

Item description

core end sleeve ADU 120 mm² - 32mm

customs tariff number

85369010
Downloads
ADU core end sleeves - uninsulated